The Gold Country Pro Rodeo is proud of our Queen Program. Applicants are young ladies who promote the sport of rodeo and the Auburn community. As rodeo queens they have high morals, standards, and lady like behavior. They have groomed appearance, outgoing personality, and are responsible. Rodeo queens are very well rounded individuals. She is knowledgeable in rodeo, horses, current events, and her community. Even when they aren't dressed in queen attire they realize their actions and words are still held to high standards.
Upcoming Important Dates:
Rodeo Queen Clinic March 18th & 19th at
Rodeo Queen Pageant April 15th Nevada County Horseman's Inc. at 5:30
10600 Bubbling Wells Rd, Grass Valley 95945
Download your Gold Country Pro Rodeo Queen Applications Here >>
Download the Rodeo Queen Eligibility & Guidelines >>
Download the Rodeo Queen Packet >>
For questions or more information please contact our Queens Coordinator Mariah Byrd at 858-699-9108 or via email mariahhunt26@yahoo.com
---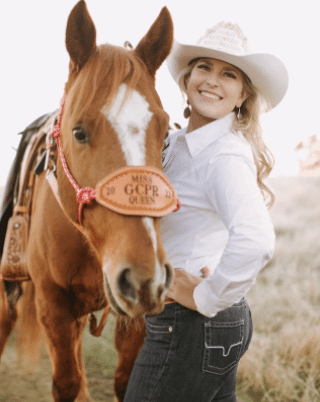 Christa Gillio
Howdy everyone! My name is Christa Gillio, I am 23 years old and currently live in the small mountain town of Pioneer, CA. I enjoy trail riding on my Quarter Horse gelding, going to sorting or challenging myself by riding with some of the best horsemen and women in the area helping shape myself into the horsewoman I aspire to be. Most importantly you can see in many parades and rodeos throughout California as your 2022 Miss Gold Country Pro Rodeo Queen! When I am not in the saddle, I enjoy playing with my Australian Shepherd and fishing with my dad! Here's to an amazing year to come and many memories to be made! It is a honor to ride as your 2022 Miss Gold Country Pro Rodeo Queen!
Proverbs 31:25
---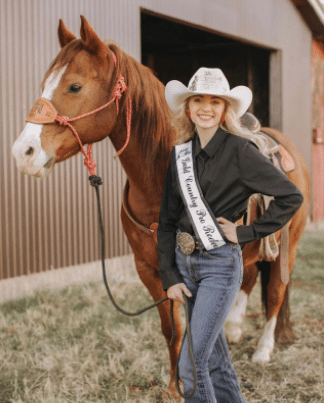 Brooke Kennedy
Welcome Rodeo Fans! My name is Brooke Kennedy, I am 16 years old and a Sophomore in High school. I have been lucky enough to call Grass Valley, CA where my family, horses and I reside home. I enjoy competing in the District 3 high school rodeo in the events or barrel racing, pole bending and breakaway roping. I look forward to rodeo weekend here in Auburn and am excited to be the 2022 Gold Country Pro Rodeo Junior Queen!
---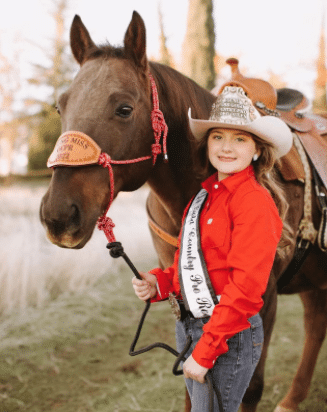 Blake Kennedy
Hello, my name is Blake Kennedy and I am your 2022 Gold Country Pro Rodeo Young Miss. I am 11 years old and live in Grass Valley. Besides riding my horse Hershey I love to play softball and show pigs.