Rodeo Kick Off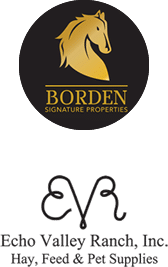 Come one, Come ALL!!
Register your youngins and come on down to Echo Valley Ranch Hay, Feed and Supply for an evening of food and fun! Dummy Roping contests featuring great prizes, rodeo trivia, music and more.
To participate contestants must be no older than 12 years old on the date of the event. Contestants must be checked-in at Echo Valley Ranch no later than 5:45 pm on the day of the event. After assessing the contestants, they will all be placed in 4 different divisions based on their roping ability. They will compete against the other children in their division for prizes.
All entry fees are generously sponsored by Borden Signature Properties.
Where:
Echo Valley Ranch Hay, Feed and Supply
205 Nevada Street
Auburn, CA 95603
When: Wednesday, April 20th, 6-8 pm
Food Courtesy of SAVEMART
Rodeo Pre-Party
Tap & Vine Proudly Presents:
The Gold Country Pro Rodeo Pre-Party and Outdoor Saloon
Friday April 22, 2022
7:00 pm to Close
Featuring boot-stomping, honky tonkin' live music by Buck Ford
Location: Tap & Vine- 130 Maple St, Auburn, CA 95603
$10 cover
Official Rodeo After Party
Pistol Pete's Brew & Cue, 140 Harrison Ave, Auburn, CA 95603
Featuring the North Forty!
Get Tickets Here: https://ezeventsinc.ticketspice.com/gold-country-pro-rodeo
7 pm to close
$10 cover
Pony Hop Competition
When: Coming Soon
Promote your business, have fun and hop to your way to success and help our local charities! The winning team gets a trophy and local bragging rights. You must purchase a rodeo ticket in addition to the competition entry.
Boom! Promote your business at the Gold Country Pro Rodeo to almost 10,000 Rodeo attendees over 2 days. $100 to enter per race and all proceeds go to local charities. Enter now at ezeventsinc.ticketspice.com/gold-country-2020

Posted by Gold Country Pro Rodeo on Friday, February 28, 2020
Mutton Busting
For a child to be eligible to enter, the child must be no less than 4 years of age, no more than 7 years of age and may not weigh more than 55 pounds
Mammas if you don't want your babies to grow up to be cowboys, you best keep them away from the mutton busting. Sure, it looks innocent enough, but does anybody really know how many cowboys got their first real taste of rodeo riding from sheep?
Thirty young cowboy and cowgirls wanna be will get their chance in the arena as they mount their trusty sheep ahead for the thrill of their young lives. A championship buckle will be awarded to the child that rides the longest.
Enter Your Child in Mutton Busting here:
Get Tickets: https://ezeventsinc.ticketspice.com/gold-country-pro-rodeo
FlyingU Cowboys
Back by popular demand!
Saturday and Sunday
2 Action packed performances by the FlyingU Flying Cowboys